>The lovely sunset on the strip. This is a veiw from the Flamingo Monorail station.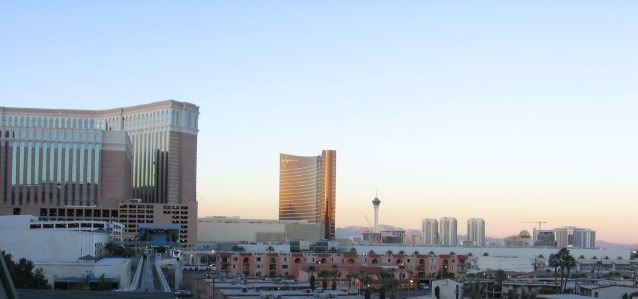 We started off the day by doing the low roller thing at the Casino Royale. My friend, Maria and I were trying the frugal, coupon route. It wasn't working for me. I lost about $50, got disgruntled, and went back up to the room to watch "Murder She Wrote" before I lost all my money. Maria won a pretty good amount of money, $100 the first night and at the Casino Royale she won like $200.
Later that evening we went to see Drew Carey's Improv All Stars. He has been doing this show at the MGM Grand during Super Bowl Weekend for the past few years. I think I was expecting it to be as funny as "Whose Line Is It Anyway". Maybe I was too sober. Colin Mocherie wasn't there, but Mimi (Cathy Kinney) was there to the disappointment of a few in our party. The thing is she turned out to be one of the more entertaining cast members.
They didn't do a lot of the bits that I enjoy. There was no "Ho Down", no scenes from a hat, no dating game. They did do that bit where they bring two audience members on stage and make them move to cast members around while the scene is going on. I hate that bit. It's always long and boring. They did this dumb bit where 100 small old-fashioned mouse traps were put on the stage. Then Drew Carey and some other guy took off their shoes and socks, put on blindfolds, and did some scene. It was just dumb. I was hoping someone would lose a toe so they would stop doing it. I guess it was just too Fear Factor for me. It just proves my theory that if you edit something up the right way, it can be more entertaining.
Actually, I would have rather heard Drew Carey do his stand up act. He came out just before the show started to warm up the audience a little and that was the funniest part of the whole show. I do have to hand it to Drew Carey, though. He is a rocker. He had Joe Walsh playing in the "band" last night with the two chicks who usually do the musical duties. Life's been good to me so far.