>Today I got a call from some telemarketer type who wanted to "verify" my company's Yellow Page listing. He asked the usual questions in his Indian accent, "Are you still located at 1234 Kissmyass Lane? Is the business phone number 212-867-5309?". But then he asked, "Am I talking to you on September 6th, 2006?" Uh, no. You're talking to me on Christmas freaking Day, 1901! What the hell kind of question is that? Dude, if you don't know what day it is when you're talking to me, you need some serious help.
*-*-*-*-*-*-*-*-*
I really hate those Burger King commercials. The King scares the living crap out of me. I do believe I have stayed clear of that fast food restaurant since the commercials began. If anything, my visits to said burger joint have definitely waned.
*-*-*-*-*-*-*-*-*
Football fucking starts tomorrow. You men better tune in or you're gay.
*-*-*-*-*-*-*-*-*
I was watching Midnight Money Madness last night on TBS. Please, check out this trainwreck if you are up at that hour. Luckily, I get the East Coast feed of TBS and get to watch it at 9:00 pm. The hosts will crack someday just from the sheer frustration of taking on air callers continuously for all two hours.
*-*-*-*-*-*-*-*-*
I ran over a jackrabbit on my way to work. I feel kinda bad. I tried to swerve, but the option of oncoming traffic didn't appeal to me. I saw jackrabbit parts flying all over the road in my review mirror.
*-*-*-*-*-*-*-*-*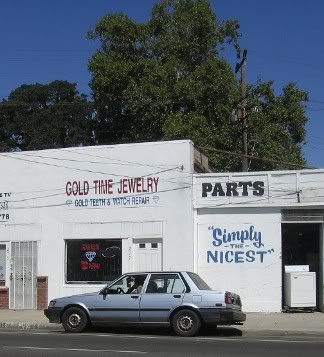 Please enjoy this new store that just opened up in my city. You can get your watch fixed as well as a new set of good teef.