>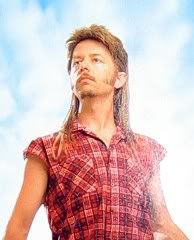 The most influential person in Joe Dirt's life has been:
Grandparents, Jesus Christ, Abraham Lincoln, George Washington, Ronald Reagan and I could write a Thesis on each as to why.
I kid you not, that was a real response on someone's profile. The guy's picture looked like it was taken in 1984 for his high school year book. He's wearing the requisite black tux jacket, white dress shirt, and red bow tie. And of course, blonde mullet.
A thesis on Ronald Regan and Jesus Christ does not turn me on. Sounds like a total downer to me. Now if he had said something about Ronnie VanZant that would have been hella cool. Free Bird!